Thursday 31 December 2009 12.09 GMT
Source:
guardian.co.uk
By Rory Carroll in Palo Ralo
Authorities in Honduras are investigating claims that one of the world's biggest gold mining corporations has contaminated a valley with toxic heavy metals. Villagers and non-governmental organisations have accused Goldcorp of killing livestock and making people sick by polluting land and rivers in the Siria valley.
[caption id="" align="alignleft" width="166" caption="A family carries laundry to a stream that has allegedly been contaminated by the San Martin mine owned by Goldcorp in the Valle de Siria, Honduras. Photograph: James Rodriguez/MiMundo.org"]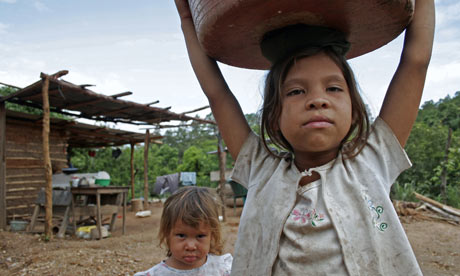 [/caption]
The environmental prosecutor is undertaking an investigation after being presented with evidence that the Canadian corporation's San Martin opencast mine discharged highly acidic and metal-rich water in 2008. The company has denied wrongdoing.
To Read More =>